Home Training Students Horses Pony Club Clinics
Pony Club Training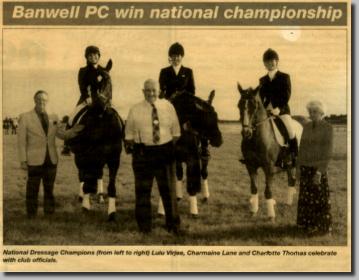 "Banwell Pony Club's Dressage Team defied the odds to win the National Pony Club Dressage Championships in Cambridge."
"Charmaine Lane from Temple Cloud, Lulu Virjee of Barrow Gurney and Charlotte Thomas from Abbotts Leigh, who are all trained by Sarah Bigg, beat off the challenge of over 120 teams from all over the country."
Weston Daily Press - August 2001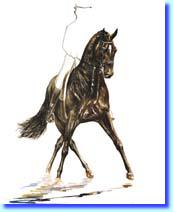 Sarah trained the Banwell PC dressage team for 14 years, and was just 18 herself when she started.
During this time she took them from never being placed at Area Dressage to consistently being well placed, wining Area for the final 7 years ( so convincingly that the other teams ended up just vying for 2nd place!). Banwell were well placed at the Championships during her last 5 years with them, culminating in their triumphant win at the Championships in 2001, with just three riders.
All three riders began their training with Sarah through the Pony Club and she took all of them on to compete Internationally for Great Britain at various levels.
At the end of 2001, Sarah moved out of the Banwell area and has not been involved with any Pony Club training since. However, since her move to Devon with the use of two first class indoor schools in the Exeter area she would be happy to consider this role with a local Pony Club again.
---