Home Training Students Horses Pony Club Clinics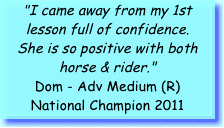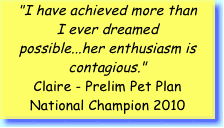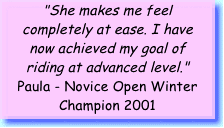 Novice Open Winter Champions 2001
"I have been training with Sarah now for nine years, after going to her in 2001 for a clinic. I wanted someone calm, quiet, (I felt I had gone past the age of being bawled at!!) with a logical, easy-to-understand method of training and someone who had my horses' best interests at heart. This, to me, meant not forcing the horse into false outlines with gadgets. I wanted my horses to go willingly to the best of their ability.
I have found all of the above in Sarah - she is very approachable and makes me feel completely at ease. It's so nice to be able to ask those questions that you're desperate to ask, but always feel unable to! She has a strong emphasis on the basics, which are the building block to all work. My horses have very different characters and this way of training suits them all. Sarah is also able to give really sound competition advice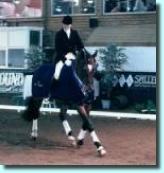 and not only prepares you physically, but mentally as well. I have had amazing success with my horses and could not have achieved it without Sarah's help."

Ramsez Z - very sadly Paula lost Zak in 2006
"Zak was an incredibly consistent horse, winning 29 of his 49 outings and only out of the top three in four classes! In the top 10 at four Regionals and going on to be placed at two Winter Championships as well as winning the Pet Plan Novice Open Championship, at the Winter Dressage Championships. We were also short-listed for the Elizabeth Woodward Training Bursary and were one of the lucky ones to gain an award."
King Solomon III - Mary King's Olympic Silver Medal winning eventer!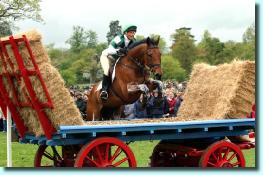 "I was lucky enough to be given Solly by Mary in July after he had retired from eventing in Saumur, France. Mary wanted him to carry on a competitive career without the stresses and strains of jumping, and thought pure dressage was the way to go as he's very extravagant and loves to show off! It's quite awesome taking on such a ride and everyone's expectations are high. Solly and Mary were together for 12 years and knew each others every move. Sarah has helped me to find all of Solly's 'buttons' and I feel we have now got a real partnership. He has also had to learn some new movements including pirouette's and develop a higher degree of collection."
Advanced Medium Restricted - 3rd Winter Regionals 2006, Qualified for Winter Championships,
5th Winter Championships 2006 and 2nd in the Petplan Finals 2006
Advanced Medium - 1st Petplan Area Festival 2007
Medium - 7th Hickstead Dressage Masters 2007
Medium Open - 10th Winter Regionals 2008
Medium Freestyle - 8th Winter Regionals 2008,
Qualified for Winter Championships (Wild Card)
15th with above 65 percent.
Advanced Medium Restricted - 5th Petplan Festival Final 2008
Medium Open - 7th Regional Championships 2008
Advanced Medium Restricted - 10th Regional Championships 2008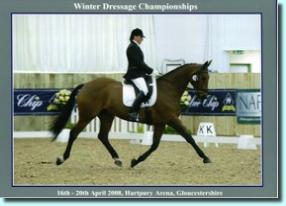 "Now at the grand age of 20 Solly is feeling as fit as ever and is loving his new career. We are currently working with his changes, which are not his strongest point, but we're getting there! This has been a huge learning curve for me but great fun and that's what it's all about! We have since done our first Advanced which we won! So I have now achieved one of my long term goals of riding at Advanced level. A goal I never thought I'd reach and to reach it on such a wonderful horse as Solly is just the stuff that dreams are made of!"
Monarco – 16.3hh & Aegar – 16.3hh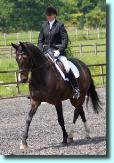 "Monarco is my new ride for this year owned by Rosemary Hayward. Rosemary offered me Marco at the end of last year after a considerable time off due to very sad circumstances. He is now in full work now after being brought slowly up to Dressage fitness. Aegar was bought as an unbroken 3 year old, through Sarah. He has been brought on slowly and carefully and is now ready to start his competitive career. He has taken some careful training and I am very excited about his future."
"I feel I owe all the above to Sarah's dedication and perseverance, and I don't feel guilty at all in using this opportunity to tell her!"
---
Preliminary Area Festival Champion 2009
Pet Plan Preliminary National Champion 2010
2nd Novice Freestyle South West Regional Finals 2011
"I first met Sarah in February 2009, after I plucked up enough courage to attend a 'taster lesson' down at Exeter. I had previously been competing at low level affiliated dressage, but felt that I needed more help and guidance to improve both myself and my horses. My parents saw Sarah's website and arranged my first lesson and I have never looked back. Sarah's approach is simple - she works on the basics and then everything else builds from there. She does this in such a way that her enthusiasm is contagious. I leave every lesson thinking it was the best I have ever had! I feel very relaxed and at ease with Sarah, if I don't know anything I am able to ask without feeling embarrassed or thinking that I should know. Sarah makes every lesson so much fun for both me and my horses, her approach is calm very logical and easy to understand.
Since training with Sarah I have achieved more than I ever dreamed possible. When I first took my young horse he could not canter a circle! With her help and expertise he won the Preliminary Area Festival,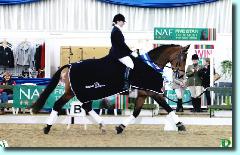 then went on to the Pet Plan Championships where he WON the Preliminary Championship at Hartpury. Since then he has qualified for the Summer National Championships at Preliminary level. This year he has won over 7 Novice classes, qualifying for both Novice and Novice music classes for next year's Winter Regionals.
Sarah is always at the end of the phone and she is always keen and interested to learn how I've done at a competition. I look forward to every lesson I have with her and one day I hope to be able to ride down the centre line in top hat and tails. With Sarah's help I believe this will be possible.
So THANK YOU Sarah for all your hard work, dedication and commitment, not only from me, but from my parents and my horses as well.
See you soon!"
Claire Rollitt
---
Advanced Medium Area Festival Champion 2010
Advanced Medium South West Regional Champion 2011
Advanced Medium National Champion (R) 2011
"When Sarah asked me to write this my initial thoughts were…
SARAH'S AMAZING!!!!
And......that was about it really, but I expect that she would appreciate a little more; it's the least she deserves after having me as a student!! So here we go...
I first had a lesson with Sarah in November 2008, after what can only be described as my worst year of training ever! I had been with someone very destructive and negative, I had little to no confidence in my ability. I felt confused about training and was unsure as to whether I wanted to continue with Dressage."
However I came away from my first lesson full of confidence and enthusiasm, with really clear homework. I didn't feel that I needed another lesson the next day to try and re-create the same quality of work. Sarah's approach to training is very clear, friendly and simple. I have learnt that there is no such thing as the 'Dressage Secret'!!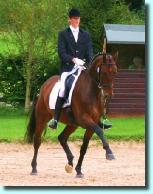 She works on clear foundations and everything else falls into place. She is very encouraging and so positive with both horse and rider. Nothing is ever too much for her; this is shown by her dedication to her students. On many occasions she has helped me warm up at competitions, preparing both physically and mentally."
"My aim is to compete at young riders next year at Premier League level and I know for a fact that Sarah will be behind us all the way. She's always on the end of the phone willing to chat. I look forward to every lesson and come out of them all saying that they have been the best ever!!
So to anybody unsure…GO FOR IT!!!!! You will NOT regret it…EVER!!!"
Dom
---
I have had the privilege recently to train with Sarah Cheetham, and have been thrilled with the lessons. She imparts a huge amount of information in a tiny amount of time, to crescendo up to a fabulous feeling in the work, as one is working. She is consistent and clear in her messages of what she is trying to bed down, throughout the clinics, without any impatience, and the communication is extremely effective. Her use of descriptive vocabulary, and the mental images that she paints, was an aspect I also particularly benefited from. But the volume of input, the timing of the input, and the quality of the input are what thrilled me the most.
Sarah is a cheerful and friendly person, who makes one feel at ease, no matter what level one is riding at. She is kind and sympathetic to the horses, and completely professional in all her dealings with clients.
I have absolutely enjoyed every moment of my training with her, and so look forward to her return!
Kerry Hadfield Saville, South Africa
---
My 16 year old daughter Adelle has lessons with Sarah Cheetham on her almost 6 year old mare in South Africa and she says that Sarah's lessons are very interesting and easy to understand but challenging.
Sarah also has a keen understanding of the psychology and physiology of the horse. She doesn't relentlessly push through with an exercise if either rider or horse is finding it difficult but adjusts to fulfill the aim.
Sarah does not discriminate either, all horse/rider combinations are worked to their potential with calm assertive energy but still expecting a high quality of work.
Correct and effective basics are also priority. We appreciate that Sarah is so approachable and she has a wonderful attitude.
With this quality of teaching Adelle and April will certainly enjoy reaching their goals.
Patricia Du Plooy, South Africa
---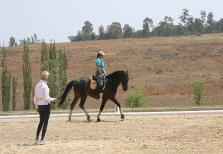 I have ridden with Sarah since she started with her dressage clinics in South Africa. I have a Dutch Warmblood Stallion who had some issues with his training from before he came to me.
I have found Sarah to be a true horse woman, in her understanding of the horse's psyche and the requirements for it's correct physical development. The implementation of her training techniques are truly classical, well thought out and logically implemented.
Her training approach is systematic and full of praise, and I find that riders and horses of all levels blossom in her hands.
Mandy
---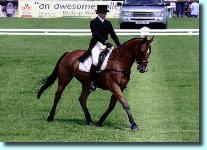 Jade Lazenby and her eventers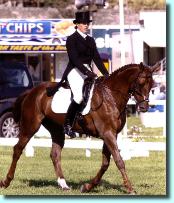 Jade on Master Blaster II at Bramham International 2006
Jade on Matisse at Blair Castle International 2007
---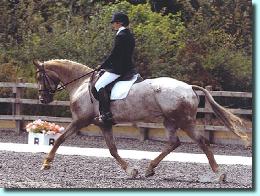 Jo Lashley (eventing & dressage)
5th Elementary Winter Dressage Championships 2008
on Princess Spickle
Princess Spickle (at the BD Summer Regionals 2007)
Out eventing, Jo and Spickle have led after Dressage on numerous occasions this season on three different hoses, including her first three Intermediates on Spickle.
---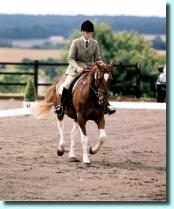 Mandy Irish and Mr Two Tone
"When I first started training with Sarah I remember continually asking her, 'will we ever be good enough to compete affiliated dressage?' Mr Two Tone began life as a gypsy's trotting pony and we bought him from Hereford market as a 4 year old having no concept of dressage whatsoever. Through Sarah's logical sympathetic system of training we were placed 4th at the Preliminary Regional Finals this year, narrowly missing qualification to the Nationals. We have already qualified for the novice winter semi finals, heading a very strong class of open and restricted riders at Hunters Equestrian in our last outing. Sarah makes dressage fun and accessible for everyone, regardless of type, age or ability." Mandy
---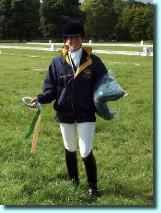 Charmaine Lane
Young Rider Individual Gold Medallist, Ireland 2000
Charmaine spent 18 months as a working pupil for Sarah. During that time she progressed from never having competed at affiliated dressage to being selected to represent Great Britain in the YR team. Sarah travelled with her to Ireland and under immense pressure, as her fellow team members had had considerably more competition experience, Charmaine defied all odds and took the individual Gold Medal. "Thank-you for all your time (+ energy!!) and patience." Charmaine
---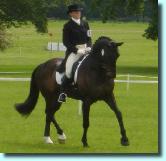 Lucy Driver and Maesmynach Nibby Caye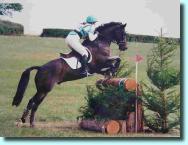 Lucy (18) recently completed her first CC1* at Aldon. She was lying 19th out of 125 competitors after dressage and finished 31st.
"I would never have entered an International 3-day Event without the support and encouragement from Sarah. Being a working pupil for her has improved my riding and both my horses significantly. I was thrilled to be lying in 19th place after dressage at the CC1*." Lucy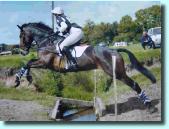 Katie Driver and Lily Langtry III (owned by Mrs Annie Maw)
Katie (14) finished the season on her best ever dressage score of 25 lying 3rd after dressage and finishing 4th at her first B.E. Novice event. Katie is 14 years old and below the minimum age of 16 allowed by British Eventing, she therefore had to be specially assessed and accredited to compete in the event
.
"After having one to one tuition with Sarah, I have found that my Dressage score has improved greatly. Before having lessons with Sarah, the dressage phase always let me down. I often had double clear rounds but was down the placing because of my dressage score. This season out of 20 events I have been in the top 10 15 times and my dressage has improved with every event. I find Sarah easy to talk to and when things don't go to plan, or I don't understand what I am trying to achieve, Sarah always explains everything simply, helping me achieve what I am trying to do. I also like watching Sarah ride Lily, it helps me to see her working correctly. I hope to continue having lessons with Sarah, because my aim for next year is to be selected for the South West JRN Team." Katie
---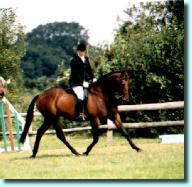 Steph Bannister and Beau Papaver
"Over the years the Island of Guernsey has been lucky enough to enjoy training from some of Britain's most prestigious riders and trainers, however, only Sarah has stood the test of time. She has been regularly taking clinics on the Island for 15 years now. This continuity, combined with her ability to communicate at all levels and her vast experience as a trainer competing at Grand Prix level has taken many of our riders from novice to advanced level. My own TB mare had previously only evented at novice level in England. Under Sarah's guidance, both from the ground and as a rider, we rapidly progressed to take both the elementary and medium championships in only our first season together. We are now regularly gaining over 70% at this level and my aim is to compete in top hat and tails next year." Steph
---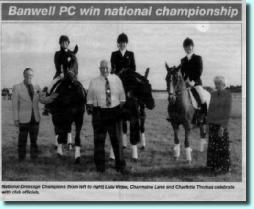 Banwell Pony Club
National P.C. Dressage Champions
Banwell Pony Club's Dressage Team defied the odds to win the National Pony Club Dressage Championships in Cambridge.
Charmaine Lane from Temple Cloud, Lulu Virjee of Barrow Gurney and Charlotte Thomas from Abbotts Leigh, who are all trained by Sarah Bigg, beat off the challenge of over 120 teams from all over the country.
Weston Daily Press, August 2001