Home Training Students Horses Pony Club Clinics
Press Contact Sarah Links
Press coverage

Sarah was the resident trainer for Just Dressage, a specialist dressage magazine, launched in September, 2008. She contributed regular articles on training and the feedback about her pieces has been overwhelmingly positive.
Sarah has also received coverage, both in the regional press, but also on a national basis and a couple of these larger items are reproduced here:
Following her move to the South West, British Dressage ran a feature on her as a trainer in the official British Dressage Magazine for Aug/Sept 2007
Click on the picture of the article to open it in a separate window: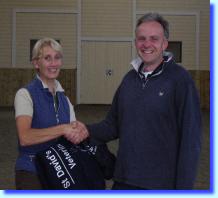 Sarah & Tony Kaye of St David's Equine shake hands in acknowledgement of their new sponsorship deal, as announced in the Western Morning News in August. Click here for the clipping.
Earlier (1st December, 2006) she was also featured in an extensive write up in the Equestrian section of the Western Morning News.
Again, just click on the picture of the article to open it in a new window:
You can also catch regular items about her in the competiton reports in the Horse & Hound.